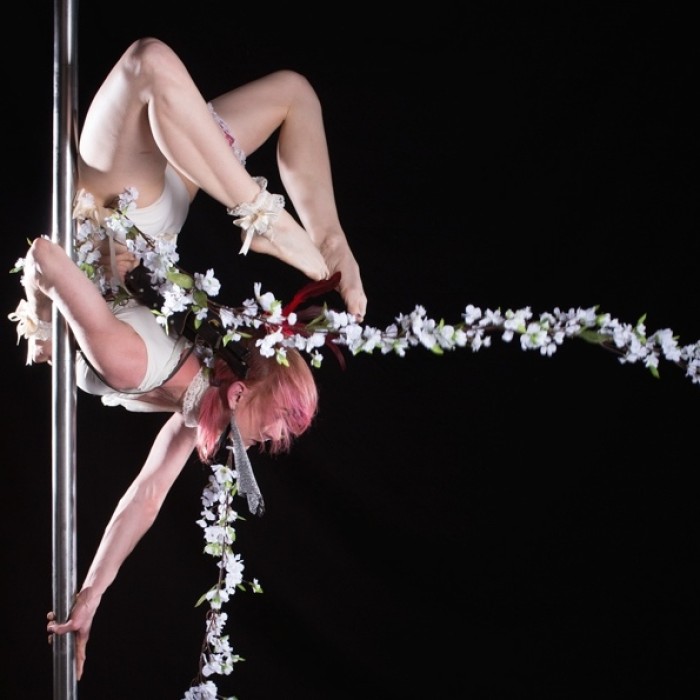 Lauralynn aka Feather @featherpistol
Featherpistol is a Performance Artist who lives in South Lake Tahoe, California. Her signature style blends 14 years of intense Choy Li Fut & Hung Gar Tiger Crane Kung Fu training with acrobatics, sensual dance, art history and grace to create a unique style as yet unseen in the pole world. Years of studying science and art history at the University of Southern California (1999-2003)with a focus in Art Conservation, followed by a Fulbright Fellowship in Florence, Italy (2003-2004) led to realizing her passion for discovering and expressing the human condition with Kung Fu, Aerial Arts and Pole. During that time she manifested her passion for teaching and sharing this knowledge with others when she became certified with the National Academy of Sports Medicine (NASM 2005). Shortly thereafter she acquired another certification in kettlebells with the Russian Kettlebell Challenge (RKC 2006) and an additional teaching cert form Sheila Kelley's S Factor (pole fitness and dance 2007). Adding to her passions for art and movement is her fascination with sound/music/vibration and its healing properties. This led to an additional credential from the California Institute of Integral Studies in Sound, Voice and Music Healing (SVMH 2010). With this knowledge and fervor her approach to fitness is holistic, healing, exciting, and specialized. She created Featherpistol Fitness in order to help beginners achieve what she calls an "Acrobatic Soul".
With all this, Lauralynn cares very much for environmental issues, puppies, and hot chocolate. As of 2016 she is the proud creator of "Pole for the Globe", a new initiative for raising money for earth charities by holding performances in nature. You can find out more and donate at www.polefortheglobe.com
SCHEDULE A POLE CLASS WITH LAURALYNN FEATHERPISTOL
Keri aka @kerity3000
Keri is joining us in SF with an incredible level of both strength and flexibility. Whether she's contorting, handstanding, or in the air you'll be blown away by what she can do! Enjoy her strong voice in class, her depth of knowledge, and her soft, supportive tone as she makes your body feel all the feels! You'll love how much she challenges you to go further.
SCHEDULE AN AERIAL OR STRETCH CLASS WITH KERI
Christina aka verano.invencible
Christina's all time favorite form of exercise is aerial silks, because of its freedom and grace. A third generation San Franciscan, she completed a 200 hour Yoga Alliance Certified Teacher Training in the summer of 2018. She has been taking classes at Featherpistol Fitness since 2016, and she looks forward to helping students tackle uncertainty, step outside their comfort zone, and achieve their goals.
SCHEDULE AN AERIAL CLASS WITH CHRISTINA
Rachel aka @teacup_wolf
Rachel is joining us in SF after taking classes at Featherpistol Fitness since 2016. This year she completed her 200 hour Yoga Teacher Training at Laughing Lotus. She sees all forms of movement as an opportunity to forge a loving and joyful friendship between body and mind. She is excited to be a part of the Featherpistol Fitness family and guide students towards their aerial dreams!
SCHEDULE AN AERIAL CLASS WITH RACHEL
Jory aka @jory2theworld
Jory is joining us in SF after teaching Hoop in the Sacramento area. He has a fun, creative approach to teaching our curriculum and he loves dancing above all! Enjoy his unique warm up, supportive energy, and his desire to push you further than you'd ever thought possible.
SCHEDULE A HOOP CLASS WITH JORY